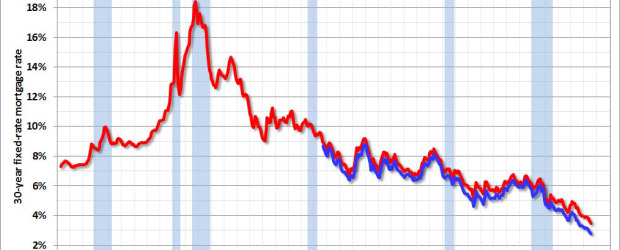 When looking to buy a house, your loan payment is a big part of the decision process. A loan can and will determine how much home you can afford as well as whether or not now is the time to buy your future home. When mortgage rates are high you will find that your monthly payment grows at an extremely fast pace and that increase is paying for the increased interest. For example, if a mortgage rate that is originally 4.25% grows and becomes 5.25%, over time your monthly payment on a $450,000 home increases from $2,213.73 to $2,484.92! This is an increase of over $270 per month all because an interest rate grew 1%. If you thought the monthly payment was the worst part about the mortgage rate increase though you are about to be even more shocked. With that same 1% rate increase on that same $450,000 home you will pay $97,627 more over your same 30-year term. Of course this monthly payment can be combated by increased the down payment of your home but that is easier said than done in most circumstances.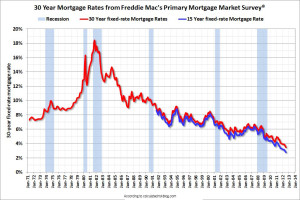 Luckily for you though mortgage rates across the nation are still at historic lows. There have been slight increases in mortgage rates as of late but the rates are nowhere near the peaks of the past. As you can see on the image to the left in the early 1980's mortgage rates were over 18%! Could you imagine purchasing a home these days with an 18% mortgage rate? Thankfully you don't have to as current mortgage rates are just over 4% as we speak (March 2014). For shock factor though, let's imagine rates were 18%. That same $450,000 home's monthly payments (considering the same down payment) would jump from $2,213 all the way up to $6,781. That same $6,781 monthly payment would allow you to purchase a home in today's market over $1.3M. That is a huge difference from that original $450,000 home and that is all due to the extremely low mortgage rate era that we are currently in. The sad part though is that these mortgage rates are currently on the rise and won't be this low for long.
Would you like information regarding home loans?
Contact Shawn Today!
Social Share